We are professional artists that create the perfect fish replica of your prized catch or a replica of a tag and release fish, to be displayed in your home, trophy room, office, pub etc for years to come. Looking at these beautiful mounts will bring back the fond memories of hooking that prized catch! We have one of the largest collections of freshwater and saltwater fish moulds which we have built up over the years.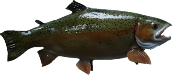 I always had a passion for nature and was taught from a young age to appreciate what God has created and fell in love with fishing and everything associated with it. After finishing school and military training I embarked on a career in the engineering field and did an apprenticeship as a toolmaker, once qualified I felt that this was not my true calling, as I always wanted to do something around fishing and having my first trophy fish I caught, mounted by a reputable taxidermist in 1992. I felt the work done which was rated as the best in South Africa at the time was not to my satisfaction and vowed to do it better myself on the next fish I caught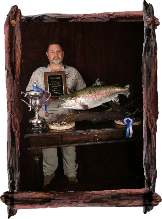 I started off by experimenting with different casting materials, dental plaster and fiberglass, a small compressor and an airbrush I produced my first trophy a brown trout which I purchased not caught at the local trout farm. I took my mounted fish to all the tackle shops in my area and asked them what they thought of my handy work, before long I had to purchase a small chest freezer that was starting to fill up quickly.
I resigned from my job as a toolmaker in 1994 to pursue my dream of owning my own Taxidermy company which I ran from my double garage called Fishtech Taxidermy. I joined the Taxidermy Association of South Africa and started entering taxidermy competitions and as a novice walked away with the novice best of show in fish and the following year asked if I could compete as a professional which I did and walked away with the professional best of show in fish.
By entering nearly every year from 1995 to 2011 I had won numerous best of show overall awards not only best of fish awards, but also two international breakthrough awards through the American Breakthrough Taxidermy Magazine proving to be a Master Fish Taxidermist.
After joining the Taxidermy Association of South Africa in 1995 I served on the Executive Committee and in later years as Vice Chairman and Chairman till 2012. Fishtech has grown into a taxidermy company producing quality realistic looking fish mounts from the beloved Guppy that died in someone's fish tank to the prized Blue Marlin Trophy caught locally and around the world.
With the guidance of Edward Pretorius, Fishtech Taxidermy has now been taken over by Karl Human, owner of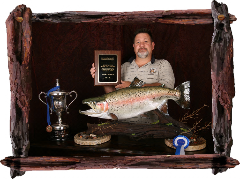 Karl Human Taxidermy cc and Wild Africa Taxidermy, which is also renowned for their quality fish mounts. Fishtech Taxidermy has been relocated to Port Alfred, on the Sunshine Coast of South Africa, and is currently operating from a 2000 sq/m facility. Karl also runs a fishing charter business from Port Alfred and is an enthusiastic fisherman and is captivated by the beauty of fish. His love for fish and fishing can be seen in the quality of his fish mounts.
© 2014. Fishtech Taxidermy. All rights reserved
Fishtech Taxidermy / Karl Human/ Mobile: +27 83 356 2740/ Fishtechtaxidermy.com